CheckWay Software.
CheckWay software is designed for the 2200CW Series Checkweigher, with easy-to-use controls for managing product IDs from a desktop or portable device with internet access. Use CheckWay to manage one scale or control multiple lines — replacing manual entry to save time, improve quality control and deliver cost savings.
KEY PERFORMANCE FEATURES INCLUDE
---
Centralized control
Create a database of products that can be edited and assigned. Delete obsolete products and have visibility of what products are in each scale – or groups of scales.
Accessibility
CheckWay is browser-based, mobile compatible and accessible from any browser — cloud-based or install on premise with access from internal systems.
Scalable
Manage selected product IDs for one, all, or groups of scales. For a group of scales, create groups and assign what products are sent to each group.
Quality control
Ensure that product IDs are loaded properly in each scale to maintain correct checkweighing within set tolerances.
Avoid errors with manual entry.
Prevent manual ID entry errors and prevent operator reconfiguration of product IDs management is in control. Can sync the scales to maintain quality control and consistency.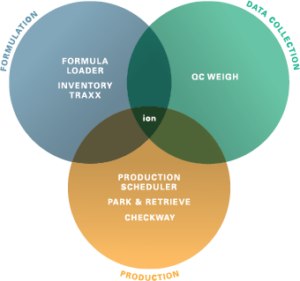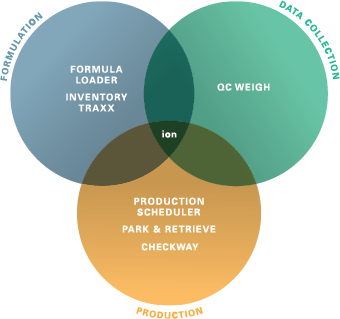 BEYOND INFORMATION, INNOVATION
A set of software applications designed for precise formulation, real-time data collection, and efficient production — to achieve pinpoint control of your plant floor. With innovative features and best-in-class performance, Doran ionSuite™ can lower costs, achieve plant-wide efficiencies and ensure employee accountability.
PERFORMANCE FEATURES AND FUNCTIONALITY
---
Checkweigh limits
Locks in desired unit of measurement
Accumulator and counter values for each product
Tare value
Two 40 alphanumeric character fields
Motion aperture required to achieve a stable weigh
Threshold weight required to capture valid weight
Three or five band checkweigh operation
Checkweigh limit entry style
Output configuration for external lights and relay
Requirements
The 2200CW must have wired or wireless Ethernet.
Doran 2200CW SS Series
The 2200CW SS Series Checkweigher features an advanced weighing indicator with a large selection of options to make this versatile indicator a smart choice for a range of weighing applications. Options include base sizes, capacities, battery power, light tower, beepers, scanners, and communications including Ethernet, WiFi, Bluetooth and USB and networking equipment.
Designed for speed, durability, and versatility – featuring a responsive keypad, rugged stainless-steel construction and washdown protection with components that are Built in the USA.