Four sizes. 1000% overload protection.
Doran Scale Bases are the result of almost five decades of design experience in industrial weighing systems. Heavy-duty components, innovative features and exceptional build quality offer best-in-class protection against the damaging effects of shock and other environmental factors that can cause costly repairs and production downtime.
A range of scale base sizes in mild steel and 304 stainless meets a wide range of industrial and washdown applications. Connect the load cell output to any indicator with a column or bracket for a complete weighing system.
DXL STAINLESS STEEL – WASHDOWN SAFE
---
Built with 304 stainless steel to endure heavy washdown and resist the corrosive effects of a wet environment. IP66 load cells are sealed to prevent water damage. Innovative design protects sensitive load cells from shock and static overload with industry leading 1000% overload protection. The entire platform also delivers weighing accuracy — meeting demand for precision measurements of 0.1 g to multiple load cell applications up to 200 lb.

Best-in-class load cell protection
Doran's shock absorbing Quad-Spring is an exclusive design innovation that improves performance and durability by transferring shock overload to the frame of the scale base.
Available with 14″ column, U-bracket or attachment bracket
As shown, DXL base with Doran 7400 SS Bench Scale with 14″ Column.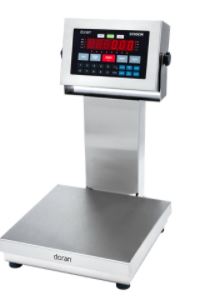 DXL Series SS Scale Bases
---
304 Stainless Steel Construction
---
1000% overload protection
---
Legal for Trade at 5,000d
---
Available in 4 sizes
8″ x 8″ x 2″ Tall
10″ x 10″ x 3″ Tall
12″ x 12″ x 3″ Tall
15″ x 15″ x 4″ Tall
---
Models available for 2, 5, 10,
25, 50, 100 and 200 pound capacity
KEY PERFORMANCE FEATURES INCLUDE
---
NTEP and CWM Approved
IP66 Rated Load Cells
Two-year warranty
Optional Ball Transfer Top or Rollers
Wide selection of columns and brackets
Specifications
| | |
| --- | --- |
| Warranty: | Two Years |
| Load Cell: | IP66, Anodized Aluminum is standard, optional Stainless Steel is also available. 10ft cable, longer length is optional |
| Output: | 2 mV/V max, full scale |
| Overload: | 5 overload stops; 4 Quad Spring Shock Absorbers |
| Mechanical: | 4 Adjustable Feet Bubble Level |
| Construction: | 304 Stainless Steel Platter, Base, Springs and Spider |
Options
Options:
Stainless steel load cells
Roller conveyors