Mild steel construction. 300% overload protection.
Doran Scale Bases are the result of almost five decades of design experience in industrial weighing systems. Heavy-duty components, innovative features and exceptional build quality offer best-in-class protection against the damaging effects of shock and other environmental factors that can cause costly repairs and production downtime.
A range of scale base sizes in mild steel and 304 stainless meets a wide range of industrial and washdown applications. Connect the load cell output to any indicator with a column or bracket for a complete weighing system.
DMS – MILD STEEL
---
Built for years of reliable use, the Doran DMS Mild Steel Bases are remarkably rugged. Quality construction with a two-part polyurethane finish provides excellent wear and abrasion protection.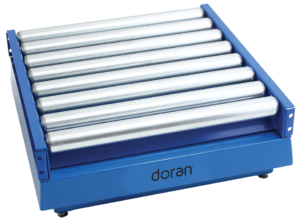 DMS Roller Conveyor option
Painted mild steel rails with six 1.9″ diameter galvanized rollers on 3″ centers. Roller weight capacity is 250lb per roller.
36″ Tall Painted Steel Atlas Column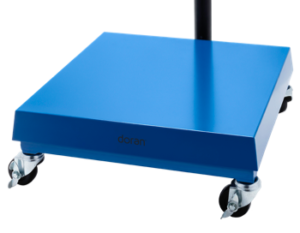 DMS Mobility Kit option
Includes four 3″ diameter locking Hard Rubber swivel casters; 36″ Tall painted steel column with handles and an indicator mounting plate designed for the Doran DS100 indicator as well as Doran standard digital weight indicators. Casters add 4″ in height.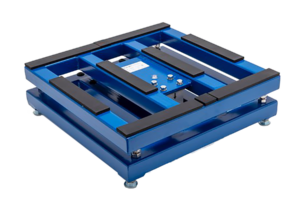 High performance design
Every component is designed for support weighing accuracy, protect against damage and make the base extremely durable.
DMS Series MS Scale Bases
---
Mild Steel Construction
---
300% overload protection
---
Legal for Trade at 5,000d
---
Available in 2 sizes
18″ x 18″ x 5.25″ Tall
24″ x 24″ x 5.25″ Tall
---
Models available for 50, 100,
250, 500 and 1000 pound capacity
KEY PERFORMANCE FEATURES INCLUDE
---
NTEP and CWM Approved
IP66 Rated Load Cells
Two-year warranty
Optional Ball Transfer Top or Rollers
Wide selection of columns and brackets
Specifications
| | |
| --- | --- |
| Warranty: | Two Years |
| Load Cell: | IP66, Anodized Aluminum 10ft cable, longer length is optional |
| Output: | 2 mV/V max, full scale |
| Overload: | 300% maximum; 6 overload stops |
| Mechanical: | 4 Adjustable Feet Bubble Level |
| Construction: | Mild Steel Platter, Base and Spider |
Options
Options:
Stainless steel load cells
Roller conveyors
Ball transfers
Stainless steel platters
Mobility kit