Exclusive weighing features. Ideal for any office.
Heavy duty construction, accuracy, and reliability – all at an economical price. The welded tubular steel structure of the DS7060 provides a handrail at the ideal height and wraps around the generously sized weighing platform. To ensure patient safety, the 800 pound capacity low-profile scale platform is covered edge to edge with a non-skid surface.
Moving the scale from room to room is easy. Simply tilt the scale back on the two built-in, non-marking wheels and roll the scale to its new destination. The large diameter foot pads makes sure the scale remains in place when the patient steps on and off the scale.
Doran's exclusive Weight Lock feature ensures an accurate weight is displayed regardless of a patient's movements. Lock in the preferred weighing units with our Units Lock feature. Our Reweigh functionality allows a second weight to be acquired while the patient remains on the platform.
The DS7060 features RS-232 and USB ports allowing the patient's weight and BMI values be sent to an EMR/EHR system.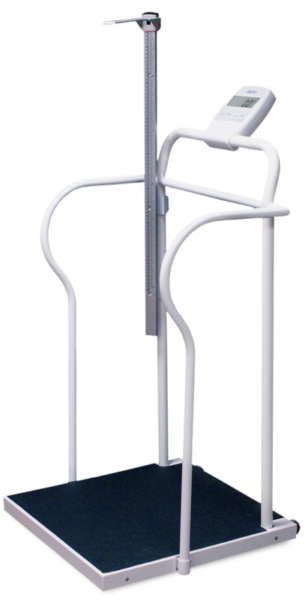 DS7060-HR
Model DS7060-HR offers the same features of the DS7060 Handrail Scale with the addition of a DS1150 Height Rod.
Specifications
Warranty:
Two Years
Power:
AC Adapter (Included) 100-240VAC, 50/60HZ ULc, ULus, CE
Battery Life:
20,000 Weighments
Communications:
EMR Ready RS-232 Standard, USB Standard
Display:
1" Tall LCD
Controls:
Units, Reweigh, BMI, Scroll Up/Down and Zero
Units:
lb, kg, Units Lock feature
Construction:
Painted Steel with Plastic Indicator
Dimensions:
Scale Dimensions: 26" W x 24" D x 50" H
Platform Dimensions: 24" W x 24" D x 3" H
Weight Capacity:
800 x 0.2 lb (360 x 0.1 kg)
Accuracy:
+/- 0.5 lb (0.2 kg)
BMI Calculator:
Input data in FT/IN or CM
Options
Optional Communications:
WiFi (Part#: DS7060-WIFI or DS7060-HR-WIFI)
Options:
RS232 Communications Cable (Part#: DS250OPT-232)
USB Communications Cable (Part#: DS250OPT-USB)
International Power Supply (Part#: Varies With Region)
Height Rod (Part#: DS7060-HR or DS7060-HR-WIFI)